>
>
>
Eco friendly White garden fleece Breathable frost protection
Eco friendly White garden fleece Breathable frost protection
Gram :19gsm
Size :0.5~45M
Color :White
PP spunbond Non Woven Crop Covers help protect your crops from insects, wind, rain and burning sun. The list of useful benefits from these crop covers include capturing heat on sunny days; retaining heat radiating from the ground at night; protecting plants from cold snaps; reducing occurrences of aphids, root maggots and flea beetles; helping to deter birds and deer from decimating crops through camouflage and helping to extend the growing season into late fall. The standard weight of the fabric is 17 gsm to 30 gsm. We give UV treatment to crop cover as per buyer's requirement like 1% UV, 2% UV or 3% UV.

Properties:
*Protects plants from harmfully solar radiation ripens vegetation of plants
*Protects plants from pests and weather
*Protects plants from warm up during sunny days
*Protects plants from freeze and improve thermal condition during cool days
*Not allow to create a steam and decrease a risk of many illness
*Under cover is created a favourable microclimate blocks weed growing
*Air permeability, water permeability
*UV treated
*Mothproof , eco-friendly, breathable, anti-bacteria, tear-resistant, fusible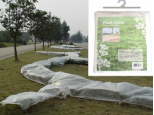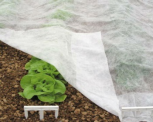 Extra width with join like 6.4m, 12m, 36M etc. is ok

Color of glue can be choosed ( white, green, red,blue etc.)
15~30cm reinforce edge available based request.
Contact us:
Mob/Whatsapp/Wechat: +8615260893273
Email:sales@sunshinecompany.com.cn
Website:http://www.pp-nonwoven.com
Add: A2406,Wanda Center, Baozhou road, Quanzhou, Fujian, China
Get the latest price? We'll respond as soon as possible(within 12 hours)