>
>
>
PLA Nonwoven Fabric
PLA Nonwoven Fabric
PLA biodegradable material refers to a kind of material that is degraded by microorganisms such as bacteria, molds (fungi) and algae that exist in nature. PLA biodegradable modified material is a kind of polymer material with excellent performance, which can be completely decomposed by environmental microorganisms after being discarded, and finally be inorganic to become a component of carbon cycle in nature.
PLA mainly obtains sugars from cassava, corn, sugarcane and other herbaceous plants, and further converts them into lactic acid, which eventually forms polylactic acid (PLA).Therefore, it is different from other materials such as pet, PP and PVC. It can be 100% completely degraded ,environment protection and melted in the soil
There have two types of PLA,one is PLA long fiber and another type is short fiber . The difference between PLA long fiber and short fiber is that the length of glass fiber is different. The length of short fiber is usually only a few millimeters, but the length of long fiber can reach a few centimeters, which will be relatively long even after molding. In this way, the reinforcing effect is more obvious, and its strength and toughness will be significantly improved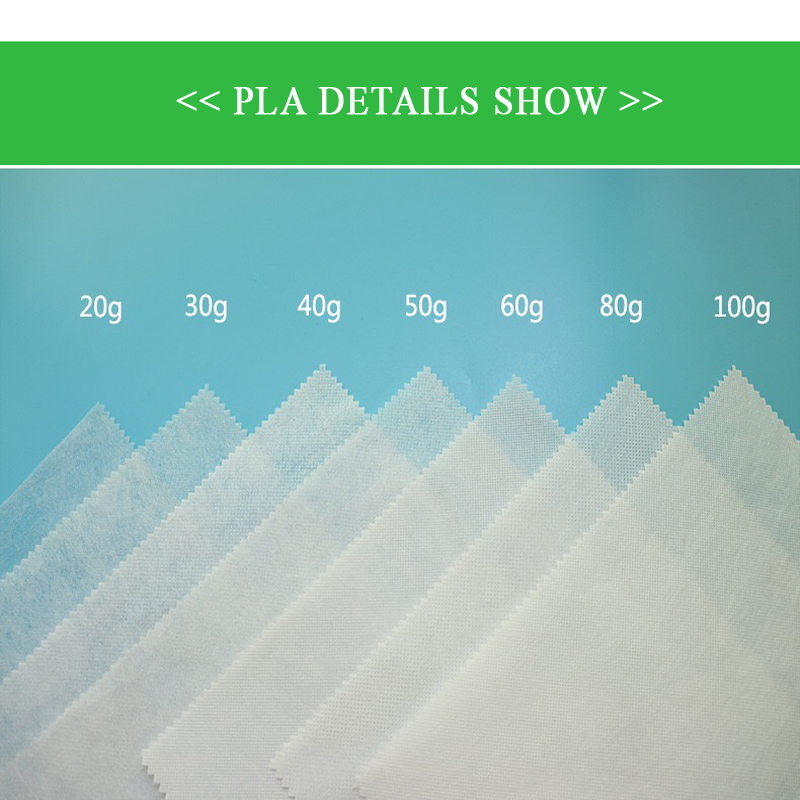 The usually sizes are from 15gsm-60gsm, 15cm-1meter. It is applicable to household articles, tableware articles in contact with food or oral cavity, etc. it can be popularized as packaging materials, fibers and non-woven fabrics, etc. it is mainly used in clothing (underwear, outerwear), industry (construction, agriculture, forestry, paper making) and medical and health fields.
If you have any request or questiions about this product,pls contact me in below information.Free samples can be offered to you for check the quality!
Contact person: Vicky
Mob/whatsapp//Wechat: 0086-15159592635
Skype: sunshinefactory02
Email:sunshine02@nonwovenfactory.com

Get the latest price? We'll respond as soon as possible(within 12 hours)